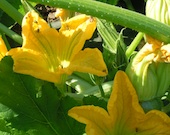 Live and archived webinars on organic farming and research.

Learn the latest in organic farming practices and research by attending or watching an eOrganic Webinar. Sign up for upcoming Webinars to watch slides, listen to the presenter, and type in questions during the live event. To receive notices about upcoming Webinars, and when we post the archived sessions, sign up for the eOrganic newsletter.
Learn how to earn CCA credits for eOrganic webinar recordings
Browse our archived webinars in chronological order below, or view them by topic here
Archived Webinars
Link
Presenters
Date
CCA
Credits
Scouting for Vegetable and Fruit Pests on Organic Farms
Watch

Helen Atthowe and Doug O'Brien
April 25, 2013
 
Researcher and Farmer Innovation to Increase Nitrogen Cycling on Organic Farms
Watch

Louise Jackson and Tim Bowles, UC Davis
April 23, 2013
 
Supplementing the Organic Dairy Cow Diet: Results of Molasses and Flaxseed Feeding Trials
Watch
Kathy Soder, USDA-ARS
April 18, 2013
 
Organic Farming Systems Research at the University of Nebraska
Watch

Elizabeth Sarno, Charles Shapiro, Richard Little, Vicki Schlegel, James Brandle, University of Nebraska
March 26, 2013
 
CSA Farmer's Guide to Accepting SNAP/EBT Payments Webinar
Watch

Bryan Allan, Friends of Zenger Farm
March 21, 2013
 
Research Update on Non-antibiotic control of Fire Blight
Watch
Ken Johnson, Oregon State; Rachel Elkins, U of CA Cooperative Extension; Tim Smith, WSU Cooperative Extension
March 19, 2013
 
National Organic Program Update
Watch

Miles, McEvoy, NOP
March 13, 2013
 
NRCS Conservation Practices, Organic Management and Soil Health
Watch
Michelle Wander and Carmen Ugarte, University of Illinois, Susan Andrews, NRCS
March 11, 2013
 
Performance of Organic Treatments in Long-Term Systems Trials: Organic Benefits and Challenges in the Face of Climate Change
Watch
Erin Silva, University of Wisconsin
March 5, 2013
 
Organic Quinoa Production in the Pacific Northwest
Watch

Kevin Murphy, WSU
February 26, 2013
 
Brown Marmorated Stink Bugs
Watch
Anne Nielsen, Rutgers University
February 19, 2013
 
Management for High-Quality Organic Wheat and Ancient Grain Production in the Northeast
Watch

David Benscher, Cornell, Greg Roth, Penn State, Elizabeth Dyck, OGRIN
February 12, 2013
 
Effects of Climate Change on Insect Communities in Organic Farming Systems
Watch
David Crowder, Washington State University
February 4, 2013
 
Organic Methods for Control of Insect Pests and Diseases of Pecan and Peach
Watch

David Shapiro-Ilan, Clive Bock, USDA-ARS, Byron, GA
January 29, 2013
 
Linking Cover Crops, Plant Pathogens, and Disease Control in Organic Tomatoes
Watch
Brian McSpadden Gardener, The Ohio State University
January 21, 2013
 
How can Organic, non-GMO and GMO Crops Coexist? Live Broadcast
Watch
Lynn Clarkson, Clarkson Grain. Broadcast live from the 2013 Illinois Specialty Crops, Agritourism and Organic Conference
Jan 10, 2013
 
The "Ancient" Grains Emmer, Einkorn and Spelt: What We Know and What We Need to Find Out
Watch

Frank Kutka, NPSAS, Steve Zwinger, NDSU, Julie Dawson, Cornell, June Russell, Greenmarket/GrowNYC
Jan 8, 2013
 
Developing an Organic System Plan for Row Crops
Watch

Beth Rota
Jan 7, 2013
 
Bovine Milk Fats: A Look at Organic Milk
Watch
Gillian Butler, Newcastle University, UK
December 18, 2012
 
Barley Fodder Feeding for Organic Dairies
Watch
John Stoltzfus, Be-A-Blessing Organic Dairy, Fay Benson, Cornell University
November 27, 2012
 
Using the eOrganic Organic Seed Production Tutorials
Watch
Jared Zystro, Organic Seed Alliance
November 16, 2012
 
Can we talk? Improving Weed Management Communication between Organic Farmers and Extension
Watch
Sarah Zwickle, The Ohio State University; Marleen Riemens, Wageningen University and Research Center, Netherlands
November 13, 2012
 
Sourcing Organic Seed Just Got Easier: An Introduction to Organic Seed Finder
Watch
Chet Boruff, AOSCA, Kristina Hubbard, Organic Seed Alliance
August 21, 2012
 
Your Organic Dairy Herd Health Toolbox
Watch
Dr. Hubert Karreman, Penn Dutch Cow Care
July 16, 2012
 
International Organic Fruit Symposium
Watch

various
June 19 and 21, 2012
 
Breeding and Genetics: Considerations for Organic Dairy Farms
Watch

Brad Heins, University of Minnesota
June 19, 2012
 
Organic Weed Management on Livestock Pastures
Watch

Sid Bosworth, University of Vermont
5/15/12
 
Live Broadcast from Fly Management on Your Organic Dairy Workshop
Watch
Roger Moon, University of Minnesota; J Keith Waldron, Cornell; Wes Watson, North Carolina State University
4/19/12
 
NRCS EQIP Technical and Financial Support for Conservation on Organic Farms Webinar
Watch
Sarah Brown, Oregon Tilth
3/29/12
 
Organic Seed Breeding for Nutrition
Watch

Philipp Simon, Walter Goldstein, Jim Myers, Micaela Colley
3/23/12
 
Cover Crops for Disease Suppression
Watch

Alex Stone, Oregon State University
3/20/12
 
Fire Blight Control in Organic Pome Fruit Systems Under the Proposed Non-antibiotic Standard
Watch

Ken Johnson, Oregon State University, Rachel Elkins, UC Cooperative Extension
3/13/12
 
The Role of Cover Crops in Organic Transition Strategies
Watch
Brian McSpadden Gardener, The Ohio State University
3/6/12
 
Optimizing the Benefits of Hairy Vetch in Organic Production
Watch
John Teasdale, USDA-ARS Sustainable Agricultural Systems Lab, Beltsville, MD
2/28/12
 
Stink Bug Management with Trap Crops
Watch

Russell Mizell, University of Florida
2/21/12
 
Veggie Compass: Whole Farm Profit Management

Watch
Erin Silva and Rebecca Claypool, University of Wisconsin-Madison
2/14/12
 
Cultivation and Seedbank Management for Improved Weed Control
Watch
Eric Gallandt, University of Maine
2/7/12
 
Participatory On-farm Research: Beyond the Randomized Complete Block Design
Watch
Sieglinde Snapp, Michigan State University
1/31/12
 
The OrganicA Project: Current Research on Organic Production of Ginger Gold, Honeycrisp, Zestar!, Macoun, and Liberty Apples
Watch
Lorraine Berkett, University of Vermont
1/24/12
 
The Organic Seed Grower's Conference, Port Townsend Washington: Selected Live Broadcasts
Watch
various
1/20/12 and 1/21/12
 
Ecological Farm Design for Pest Management In Organic Vegetable Production: Successes and Challenges on Two Farms
Watch
Helen Atthowe, Doug O'Brien
1/18/12
 
Carolina Organic Commodities and Livestock Conference: Selected Live Broadcasts
Watch
various
1/12/12 and 1/13/12
 
Why Eat Organic: Live Broadcast from the Illinois Specialty Crops, Agritourism and Organic Conference
Watch
Jim Riddle, University of Minnesota
1/12/12
 
Reduced Tillage in Organic Vegetable Production: Successes, Challenges, and New Directions
Watch
Helen Atthowe, Biodesign Farm, Consultant
12/13/11
 
Microbial Food Safety Issues of Organic Foods
Watch
Francisco Diez-Gonzalez, University of Minnesota
12/6/11
 
Starting Up Small-Scale Organic Hops Production
Watch
Rob Sirrine, Michigan State University, Brian Tennis, Michigan Hop Alliance
11/15/11
 
Dryland Organic Agriculture Symposium from the Washington Tilth Conference 2011
Watch
Various speakers, morning and afternoon sessions.
11/11/11
 
Tracking Your Produce--For Your Business and Health
Watch
Collen Collier Bess, Michigan Dept of Agriculture
11/8/11
 
Healthy Soils for a Healthy Organic Dairy Farm -- Broadcast from 2011 NOFA-NY Organic Dairy Conference
Watch
Heather Darby, University of Vermont, Cindy Daley, University of California, Chico
11/4/11
 
Root Media and Fertility Management for Organic Transplants
Watch
John Biernbaum, Michigan State University
11/1/11
 
Plan for Marketing Your Organic Products
Watch
Susan Smalley, Michigan State University
10/25/11
 
How to Breed for Organic Production Systems
Watch
Jim Myers, Oregon State University
10/18/11
 
Flooding and Organic Certification
Watch
Jim Riddle, University of Minnesota
10/13/11
 
Stockpiling Forages to Extend the Grazing Season on Your Organic Dairy
Watch

Laura Paine, Wisconsin Department of Agriculture, Trade and Consumer Protection
7/28/11
 
Fly Management in the Organic Dairy Pasture
Watch
Donald Rutz, Keith Waldron, New York State IPM Program
7/6/11
 
Using Small Grains as Forages on Your Organic Dairy
Watch
Heather Darby, University of Vermont Extension
4/14/11
 
Third Party Audits for Small and Medium Sized Meat Processors
Watch
Jim Riddle, Joe McCommons, and the Quality Control Manager of Lorentz Meats
4/5/11
 
A Novel Strategy for Soil-borne Disease Management: Anaerobic Soil Disinfestation (ASD)
Watch
Joji Muramoto, Carol Shennan, David Butler, Maren Mochizuki, Erin Rosskopf
3/30/11
Earn credit
Integrated Pest Management in Organic Field Crops
Watch
Eileen Cullen. Robin Mittenthal, University of Wisconsin, Christine Mason, Standard Process Farm
3/29/11
Earn credit
The Evolution, Status, and Future of Organic No-Till in the Northeast US
Watch
Bill Curran, Penn State, Steven Mirsky, USDA, Bill Mason, Mason's Heritage Farms
3/22/11
 
USDA ERS 2011 Organic Farming Systems Conference Webinars
Watch
various
3/16/11
 
Local Dirt: Beyond Marketing. Find Buyers, Sell Online, Source & Buy Product…Yourself
Watch
Heather Hilleren, Kassie Rizzo, Local Dirt
3/15/11
 
GMO Contamination: What's an Organic Farmer to Do?
Watch
Jim Riddle, University of Minnesota
3/9/11
 
North Carolina's Statewide Initiative for Building a Local Food Economy
Watch
Nancy Creamer, Teisha Wymore, North Carolina State University
3/1/11
 
Grafting for Disease Management in Organic Tomato Production
Watch
Frank Louws North Carolina State University Cary Rivard, Kansas State University
2/22/11
 
Shades of Green Dairy Farm Calculator
Watch
Charles Benbrook, The Organic Center
2/1/11
 
Greenhouse Gas Emissions Associated with Dairy Farming Systems
Watch
Tom Richard, Gustavo Camargo, Penn State
1/25/11
 
Assessing Nitrogen Contribution and Rhizobia Diversity Associated with Winter Legume Cover Crops in Organic Systems
Watch
Julie Grossman, North Carolina State University
12/14/10
 
Using Winter Killed Cover Crops to Facilitate Organic No-till Planting of Early Spring Vegetables
Watch
Mike Snow, Farm Manager, Accokeek Ecosystem Farm; Charlie White, Penn State
12/7/10
 
Using Cover Crops to Suppress Weeds in Northeast US Farming systems
Watch
William Curran, Matthew Ryan, Penn State
12/2/10
 
Transitioning Organic Dairy Cows off and on Pasture
Watch
Rick Kersbergen, University of Maine
11/23/10
 
Greenhouse Gases and Agriculture: Where does Organic Farming fit?
Watch
David Granatstein, Lynne Carpenter-Boggs, Washington State University, Dave Huggins
11/15/10
 
Impact of Grain Farming Methods on Climate Change
Watch
Michel Cavigelli, USDA, Beltsville MD
11/12/10
 
Setting up a Grazing System on Your Organic Dairy Farm
Watch
Sarah Flack, Sarah Flack Consulting, Cindy Daley, California State University, Chico
10/1/10
 
Maximizing Dry Matter Intake on Your Organic Dairy Farm
Watch
Karen Hoffman, USDA-NRCS
9/16/10
 
How to Calculate Pasture Dry Matter Intake on Your Organic Dairy Farm
Watch
Sarah Flack, Sarah Flack Consulting
8/20/10
 
Late Blight Control in Your Organic Garden
Watch
Meg McGrath, Cornell
7/21/10
 
Late Blight Control on Organic Farms
Watch
Meg McGrath, Cornell, Sally Miller, Ohio State
7/1/10
 
Increasing Plant and Soil Biodiversity on Organic Farmscapes
Watch
Louise Jackson, University of California-Davis
5/4/10
 
Cover Crop Selection
Watch
Jude Maul, USDA ARS
4/27/10
 
The Economics of Organic Dairy Farming in New England
Watch
Bob Parsons, University of Vermont
4/13/10
 
Estimating Plant-Available Nitrogen Contribution from Cover Crops
Watch
Nick Andrews, Dan Sullivan, Oregon State
4/13/10
 
Planning for Flexibility in Effective Crop Rotations
Watch
Chuck Mohler, Cornell
4/6/10
 
Using NRCS Conservation Practices and Programs to Transition to Organic
Watch
David Lamm, USDA NRCS
3/30/10
 
Planning Your Organic Farm for Profit
Watch
Richard Wiswall, Cate Farm
3/22/10
 
A Look at the Newly Released Organic Pasture Rule
Watch
Kerry Smith, USDA, AMS, National Organic Program
3/17/10
 
Organic Blueberry Production
Watch
Bernadine Strik, Handell Larco, Oregon State University, David Bryla, USDA
3/9/10
 
High Tunnel Production and Low Cost Tunnel Construction
Watch
Tim Coolong, University of Kentucky
3/2/10
 
Getting EQIPed: USDA Conservation Programs for Organic and Transistioning Farmers
Watch
Jim Riddle, University of Minnesota
2/23/10
 
Organic Certification of Research Sites and Facilities
Watch
Jim Riddle, University of Minnesota
2/9/10
 
Grafting Tomatoes for Organic Open Field and High Tunnel Production
Watch
David Francis, Ohio State
2/2/10
 
Undercover Nutrient Investigation: The Effects of Mulch on Nutrients for Blueberry
Watch
Dan Sullivan, Ryan Costello, Luis Valenzuela, Oregon State
1/26/10
 
ABCs of Organic Certification
Watch
Jim Riddle, University of Minnesota
1/19/10
 
Organic Farming Financial Benchmarks
Watch
Dale Nordquist, University of Minnesota
1/12/10
 
Organic Late Blight 2009 Webinar
Watch
Sally Miller, Ohio State: Meg McGrath, Cornell; Alex Stone, Oregon State University
12/14/09
 
This is an eOrganic article and was reviewed for compliance with National Organic Program regulations by members of the eOrganic community. Always check with your organic certification agency before adopting new practices or using new materials. For more information, refer to eOrganic's articles on organic certification.
eOrganic 4942